Always don the garment on the more severe arm first. Follow the instructions for sleeves with zippers for wearing the sleeves. Do not close the zippers until the body is filled. Position the body of the vest as described in the instructions for vests with sleeves. Close the zippers in the sleeves remembering to hold the fabric together while closing.
Keep the elastic backing between the skin and garments zipper. Position the seam in its proper place as the zipper is closed. Seam runs from axilla to elbow.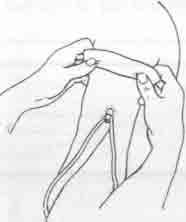 Open garment zipper fully. Place fingers inside sleeve at closed axilla and stretch it as large as possible. Slip sleeve onto arm to axilla. Adjust length to the point sleeve was measured to end. Hold the support together with one hand 4 to 6 inches below the zipper "pull". Close pressure garment zipper. The elastic backing should be between skin and zipper. Continue down arm to wrist, always holding the pressure sleeve together with one hand while closing zipper with other. lnsert pad for bend of elbow (if desired), When closing.